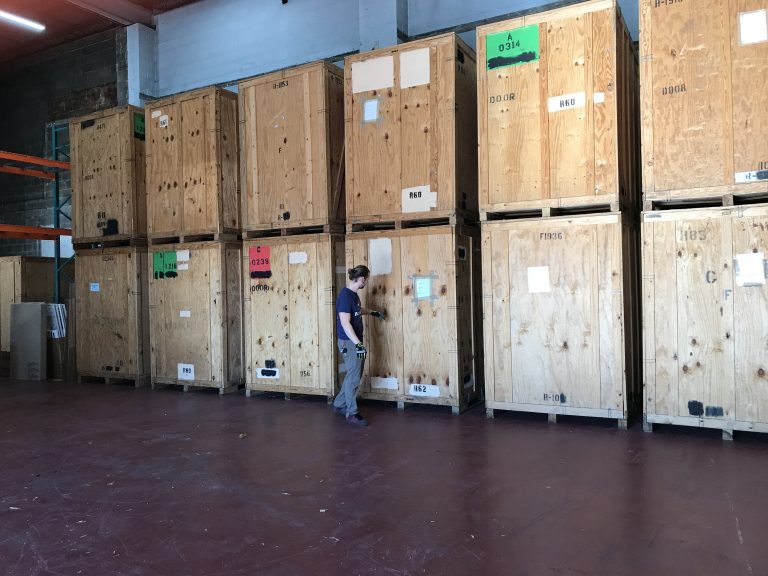 Moving can be daunting enough already, and moving into storage adds extra factors that can add extra stress. Before you panic, just know there are several ways to help streamline your experience and make things run smoothly. Of course we've spoken about the benefits of hiring a moving company before, but choosing a good storage company is important as well. For a more hands off experience, booking storage through the moving company helps a ton too. Not to brag or something, but we do happen to offer storage here at Bookstore Movers. We also have a 20% off discount for our storage!
To keep your move into storage a little more stress-free try:
-Scheduling storage and moving as far in advance as possible with a well-researched company (check out our glowing reviews on Yelp! Just sayin').
-Making any building reservations (elevators, loading docks, street permits, etc) as soon as you can.
-Making sure you stay on top of your inventory list–if there are any changes, you'll want to get a revised estimate as soon as you can to make sure everything is still projected to fit in the truck and storage.
-Deciding on any items you may want to take yourself (like very fragile ones) or leave out of storage (such as extremely meaningful items that you may want to keep with you).
-Packing well and labeling your boxes–if you need help packing, we do offer that service as well!
-Making sure items are clean and organized. You will thank me later.
-Staging the items in your home so that moving them out is quicker. This is especially a boon during this pandemic, as it makes social distancing easier.
-For the ultimate smooth storage process, stay informed and in touch with your company of choice. It's important to know what's in store, after all. (Badum-ching!)
If you are able to complete these steps, you'll have a quicker and more organized move. If you do choose to move into our storage, we'll send an invoice with the hours and hourly rate (previously discussed in your estimate) as well as a list of any materials used when packing your items into storage. We just recently opened a second storage facility in Elkridge, and would love to help store your items! So if you're interested in a storage estimate, we're happy to send one and hope we can help.