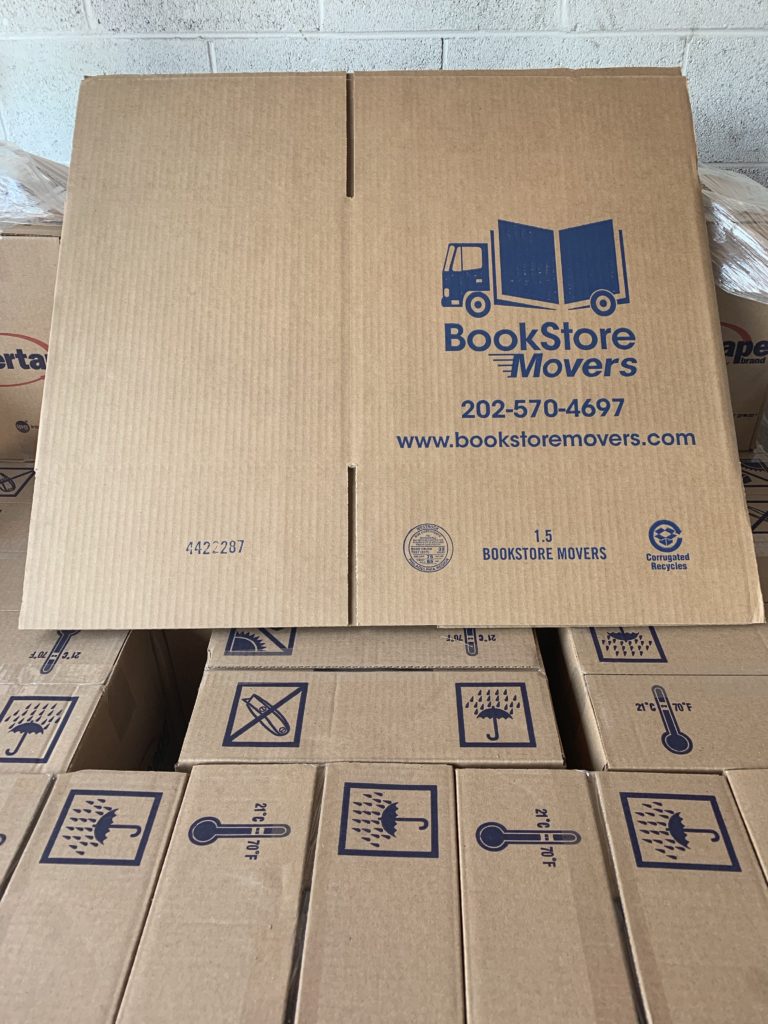 When it comes to packing your living space, knowing what moving boxes and materials are necessary can be a daunting task. There's already so much to do, and getting prepared is half the battle. We at Bookstore Movers do offer comprehensive packing services, but for those hoping to take matters into their own hands, we're happy to give a bit of guidance! In this first article, we'll handle moving boxes–there's plenty to talk about!

There are a few good reasons to let your movers handle packing, including just giving yourself a bit more free time during a strenuous life event. Typically, we recommend sticking with the same company for both jobs (even if we're not available, we can send you a list of referrals that may be!). However, for people looking to save money, take stock of their belongings, or just maintain the level of control they prefer, packing by yourself can be a real option–as long as you arm yourself with knowledge, materials, and plenty of advance time.

The first type of boxes are the kind you'd typically imagine– just regular cardboard boxes in small, medium, and large size. Small boxes, also known as bankers or book boxes, are ideal for heavier items. Items like books, small appliances, or papers can be surprisingly weighty in a larger box! Medium boxes are a more all purpose box. Most items tend to go in medium boxes. For large boxes, stick to really lightweight items like pillows, stuffed animals, or fluffy blankets. Think of things that you can easily lift in a larger box, all while looking substantially stronger than you need to. Reusable bins are also a great idea–our program is currently on hold, but we often recommend LendABox.

Dishpacks are boxes specifically made for packing fragile dishes. Some of these boxes come with prepared separators or cells, but the important part is that these boxes are twice as thick as a standard box to better protect its contents. Use plenty of packing paper with these (and any!) boxes to insure your items are secure. When it comes to items like mirrors or art, there are a few options. Often, they can be carefully wrapped in moving blankets and then transported in a commercial bin (a bin in the truck for odd shaped items that is three times as thick as a normal box). You can also use mirror boxes, or have a custom crate made for valuable items by a company like Bonsai Fine Arts.

One type of box we often rent or sell to clients is wardrobe boxes. These are tall boxes that stand upright and have a bar inside for hanging clothing (or, occasionally, curtains). This helps with ease of transfer– you just hang the clothes in the box and then hang them up as soon as you get to the new place, wrinkle-free. If you're moving one day and need your business casual work clothes ready the next, this may be an important option for you. Typically, we'll pack and unpack these boxes for our clients whether or not they've scheduled a pack job, since they are so quick and easy to use.

We also rent TV boxes, which are large, padded boxes for moving flat screen tvs. These are adjustable, to accommodate multiple sizes of TV. Usually we just wrap TVs in moving pads and blankets, but for clients who'd like extra protection TV boxes may bring a bit more piece of mind.

These are the main types of boxes you'll need when moving: standard boxes (small, medium, and large), dishpacks, wardrobe boxes, and TV boxes. Hopefully you've learned a little more about your packing options, whether it's what types of boxes you'd like to use or that you may like to ask for a packing estimate instead. Either way, we're happy to help at Bookstore Movers!