***This form is for our mover/driver and packing specialist positions. ***
For the crew chief position, please go here.
Bookstore Movers provides high­ quality moving services by trustworthy and intelligent movers to
the Washington, DC area. We are hiring part­time and full­time movers and mover­/drivers. We
welcome anyone with a strong back and a positive attitude. Are you:
Hard working?
Honest?
Reliable?
Intelligent?
Join us. Bookstore Movers is a growing company with opportunities for rapid advancement.
Benefits:
Pay for movers starts at $16.10/hr +

tips

and goes up to $35/hr +

tips

Flexible scheduling
401­K retirement plan
Healthcare
Paid professional development
Fair, honest, respectful and fun workplace
Upon promotion, management experience in a dynamic work environment
Qualifications: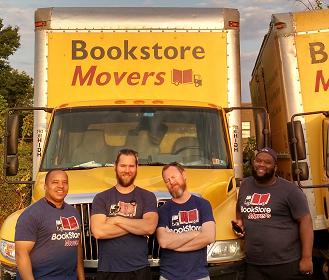 Ability to safely lift 120 pounds
Desire to do physically challenging work every day
A customer ­service mindset
Moving and/or management experience is preferred but not necessary
Additional requirements for driver position:
Valid Driver's License
Clean driving record
2 years driving experience (not necessarily commercial)
No phone calls