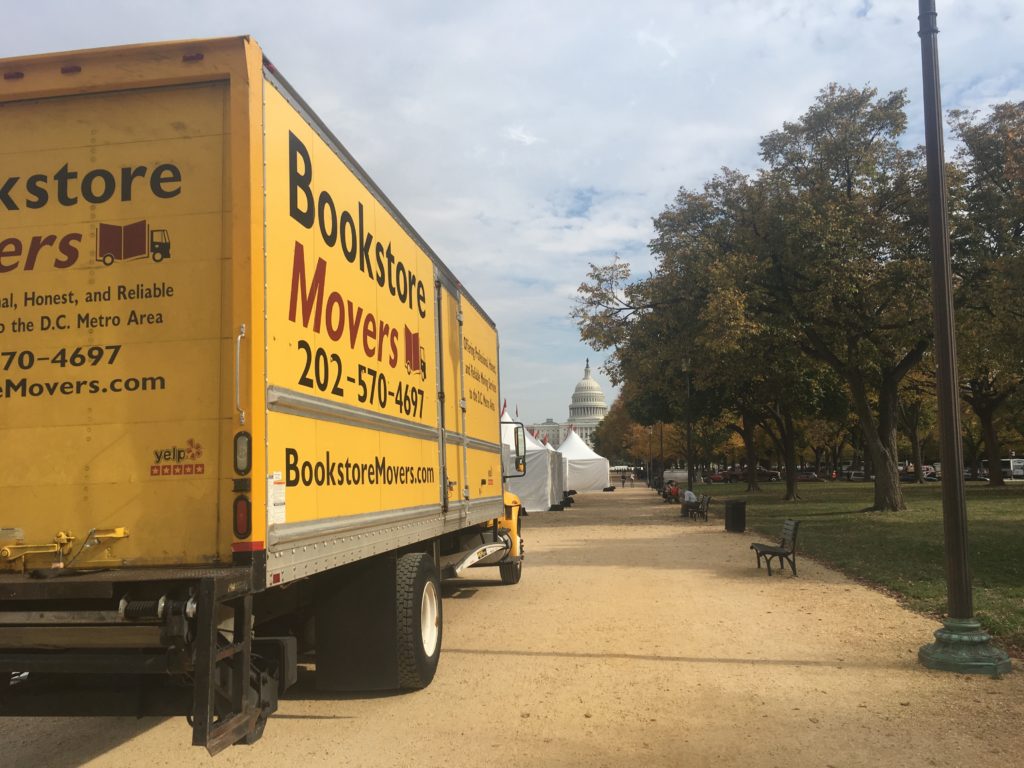 Fall 2020: We are open and serving the DMV community for local moves! We are considered an essential business.
This information is emailed to all clients at least 72 hours before each job:
Before your move, we are requesting that you help keep all our employees, their families, and our other clients safe by letting us know if you or anyone in your home has experienced a fever or symptoms of COVID-19 within the past 72 hours. We will need you to respond and let us know by 12 noon on the day prior to your move so that we can go ahead with your move. If you have experienced any symptoms, please let us know as we will need to cancel and reschedule your move.
We want to outline some key procedures we are taking and request that you also follow certain guidelines, so we can ensure the health and safety of both our movers and our clients.
What Bookstore Movers is Doing to Keep Our Movers and Clients Safe
Perform daily health check-ins. Any employee exhibiting a fever or symptoms will be directed to stay home.
We'll be foregoing our usual handshake to greet you, and will keep a distance of 6' as much as possible. But we are still excited to work with you!
We plan to wash our hands at each location, upon arrival and upon departure, and we encourage frequent hand washing in general.
Each crew will be provided with a COVID-19 safety kit including masks, gloves, hand sanitizer, disinfectant and paper towels.
We are asking our movers to wear masks whenever possible, particularly when inside your residence. The movers will need to take more frequent breaks than usual to step outside and take a breather from their mask, and are encouraged to do so.
Moving trucks and equipment will be cleaned with disinfectant at the end of each day.
We have separated our crews into distinct teams in order to help isolate the spread of illness, in the case someone is unfortunately diagnosed.
What Our Clients Should Do to Help
If you or any of your household are sick, please let Bookstore Movers know right away.
Please help protect our movers by making sure high touch items such as doorknobs and handrails have been cleaned and disinfected.
We ask that you provide hand soap, water, and paper or regular towels for the movers to wash up at the beginning and throughout your move. Please point out the designated bathroom to the movers upon arrival.
Please practice social distancing and give the movers space to complete the work safely. Please limit the number of people present, and if possible wait in an outside area. If an outside area is unavailable, we can clear an entire room first where you can wait while the crew completes the remainder of the job. We also ask that you open windows (and close them after) at both locations to ensure proper ventilation.
Due to unprecedented challenges caused by the pandemic, there may be days when we have an unexpected staff shortage and need to send smaller crews than originally booked. We will of course adjust your hourly rate if we need to send a smaller crew.
Please do confirm by 12 noon on the day prior to your move that your household is symptom free. We understand that moving can be very stressful even during normal circumstances, please know that the safety and well-being of our clients as well as our employees is of the utmost importance and we do not take this responsibility lightly.
For a list of resources including coronavirus information, educational resources, and virtual activities, please click here.