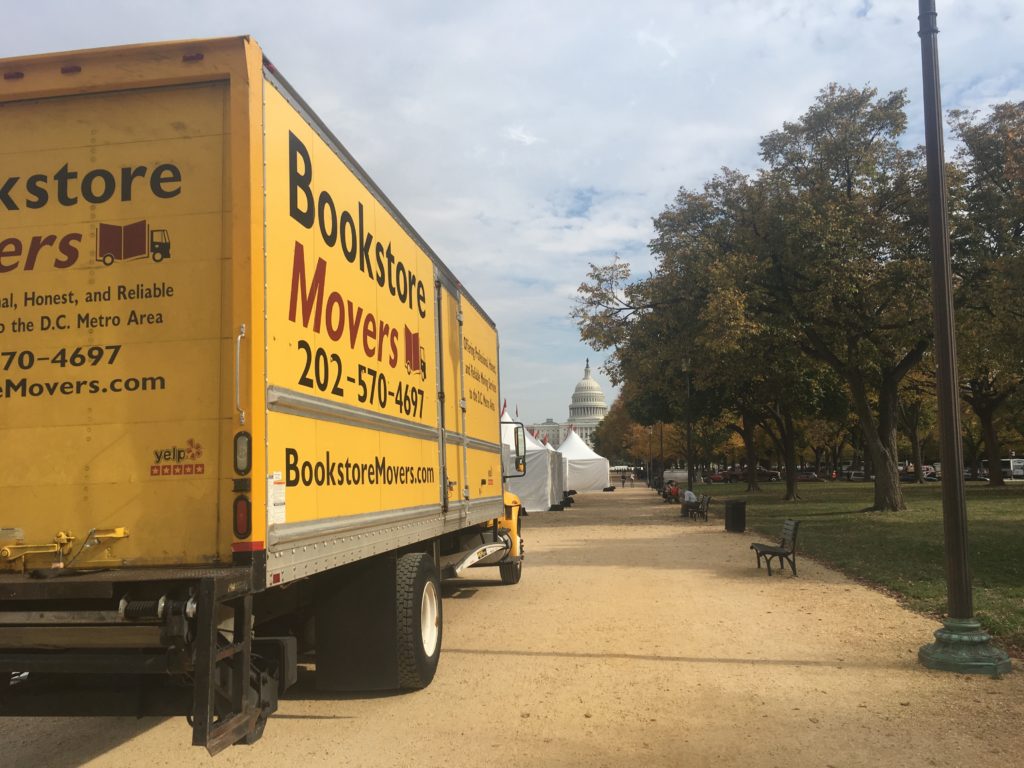 UPDATE 5/21/2020 WE ARE LOOKING FORWARD TO MOVING CLIENTS STARTING ON MAY 29TH!
What Bookstore Movers is Doing to Keep Our Movers and Clients Safe
Perform daily health check-ins. Any employee exhibiting a fever or symptoms will be directed to stay home.
We'll be foregoing our usual handshake to greet you, and will keep a distance of 6' as much as possible. But we are still excited to work with you!
We plan to wash hands at the beginning and end at each location, and we encourage frequent hand washing in general.
Each crew will be provided with a COVID-19 safety kit including masks, gloves, hand sanitizer, disinfectant and paper towels.
Moving trucks and equipment will be cleaned with disinfectant at the end of each day.
We have separated our crews into distinct teams in order to help isolate the spread of illness, in the case someone is unfortunately diagnosed.
---
UPDATE 4/13/2020 We are looking forward to helping our clients move starting on May 29th!
As of today we are absolutely planning to continue all moves as scheduled after May 29th, but as this unprecedented situation is changing hour by hour there is a chance we would have to suspend services due to developing federal, state, or local regulations. If circumstances change that are beyond our control and we can no longer complete your move we will let you know immediately and will be happy to assist in providing moving referrals.
During this time of uncertainty we've made some temporary adjustments to our standard cancellation policy. Please review the temporary fee structure below, which we hope will provide greater flexibility to our clients:
Covid-19 Cancellation Fee – For cancellations/reschedules that occur during the COVID-19 epidemic we've adjusted our policies a bit. If you plan to cancel or reschedule for COVID-19 related reasons with at least 3 days notice prior to your move there is no fee. If you cancel or reschedule inside of 48 hours it is a 1 hour fee based on your hourly rate, and after the close of business the night before your move (and on the day of your move), a 3 hour fee will be charged. All adjustments to your reservation, either rescheduling or cancelling, must be requested via email; we absolutely do not accept cancellations via telephone. So please try to do everything in your power to not cancel your move! One thing to check is that your buildings don't have any move date/time restrictions, or elevator restrictions. These fees do not apply if the rescheduling is due to an Act of God (blizzard, terrorism, collapsed bridges).
Original message: Bookstore Movers has decided for the well-being of both our staff and our clients that we will not perform moves for the second half of April through May 28th. This is without a doubt the most difficult decision we've had to make in Bookstore Movers' history.
Simply put, the severity of the COVID-19 crisis is making running our business increasingly difficult. Public transportation points are closing all over the area, making the very act of getting to work difficult for our movers. Our staff is also stretched on the homefront with unforeseen child care needs and family concerns. The community spread in our area means our staff is feeling increasingly unsafe working out in the field. Many of our movers have young children, they are understandably worried for themselves, and for their families. The bottom line is many of us will get sick if we continue to handle moves. Over the past week local authorities have increasingly emphasized that the majority of us should simply stay home, and that even those like us in "essential services" should limit interactions with others as much as possible.
Because we prioritize the health of our staff and want to do our part to flatten the curve in our community, we've made the difficult decision to suspend operations through May 28th. Bookstore Movers is built on the premise that we can serve both our community and our staff well by treating everyone with dignity and respect. For our movers, this means staying home and safe with their loved ones. We believe this is both right and kind. We are taking steps to ensure we can reopen by early June and welcome back all our current employees. Our top management has already taken pay-cuts and freezes, and we are looking into small business loans and other human resource options to protect and provide for our employees.
Please know we did not come to this decision lightly. We are determined to get back to doing what we love as soon as it is safe to do so. The immediate road ahead is difficult but we will do everything we can to ensure that Bookstore Movers is ready to reopen and serve you again in the future.
For a list of resources including coronavirus information, educational resources, and virtual activities, please click here.